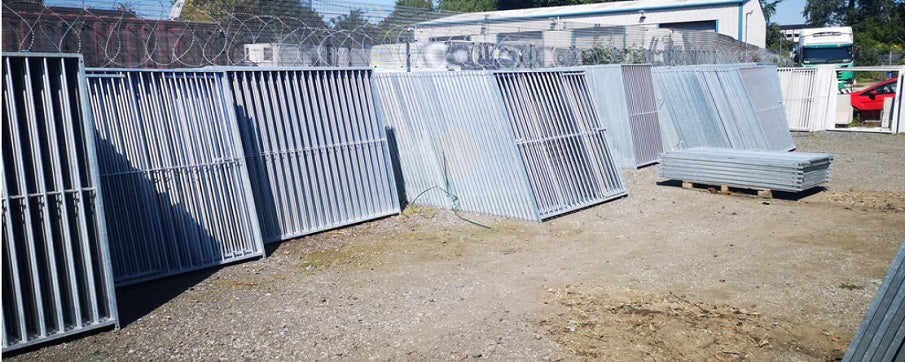 Benefits of Galvanised Dog Run Panels
Posted on
Here at Dog Kennels Direct, we know that all dogs are different. Some are large, some are small, some are escape artists, and others are content to simply snooze in their sleeping areas. So, naturally, there is no one-size-fits-all dog kennel or run. We have a range of complete dog kennels which are ideal for some people, but our range of galvanised panels gives you the freedom to create the perfect kennel and run for your dogs. Whether you are starting from scratch or adding onto an existing Dog Kennels Direct kennel, you will be able to create the ideal space for your dogs.
Durability and Longevity
Here at Dog Kennels Direct, we only use premium-grade steel, which is then carefully galvanised to provide an extra coating. This makes our panels extremely long-lasting and weather-resistant. When you build a kennel or run for your dogs, you want to know that it will last. Some companies use poor-quality materials, so when you are choosing your dog kennels, make sure that you choose panels that have been made with high-quality materials and first-class craftsmanship.
Safety and Security
Quality doesn't just mean that our dog kennels last for a long time, it also makes them safe. Some dogs can be very boisterous in their kennels, and you want to know that if your working Malinois crashes into the side of the kennel while playing, or that if your Jack Russell tries to chew his way to freedom, that the kennel will be safe and secure. Our kennels are designed carefully to ensure that they are safe, sturdy, and easy to use.
Easy Maintenance
Kennels and runs will last longer when they are maintained, so we have made our panels easy to maintain. By choosing high-grade steel, and galvanising it, all you need to do is keep it clean. Wood can need regular maintenance, especially, if it is untreated. So always make sure that the different materials in your kennel are maintained accordingly.
Versatility and Customisation
Our panels are designed so that you can create the ideal dog kennel for your dogs. Whether you need to build a small puppy area, create a large run in an odd space in your garden, or design a multi-dog kennel with secure internal sleeping areas and external runs, our panels will allow you to do this.
Weather Resistance
Dog kennels by their very nature are outside, and we all know how destructive the British weather can be. Galvanised steel is designed to withstand the weather, from the summer heat to the winter rain, season after season, year after year.
Hygienic and Easy to Clean
The different designs of galvanised panels have all been designed to be hygienic and easy to clean. It is important for your dogs' health that their kennels are kept clean and tidy. Galvanised steel can be easily washed, removing any dog urine or faeces with ease.
Cost-Efficiency
Building your ideal dog kennel doesn't have to cost the earth. Our kennel panels are affordably priced so that you can create your ideal dog kennel without breaking the bank. As they are designed to be compatible with the other products that we sell and to be easy to set up and dismantle, if you need to expand at a later date, you can. If you want to increase your kennel size, you don't need to start again from scratch, you can simply take your run apart, add in new sections, and reassemble it. This gives you great cost savings, rather than having to buy a whole new set-up to house your new dog.
Noise Reduction
Your happy dogs will sleep peacefully in their kennels. Due to the careful design of our panels, they don't rattle, or clang the entire time, which can be distressing for the dogs, and make them unsettled. With good quality fixtures and fastenings, we make sure that when you build your dog kennels with our panels, they are secure.
Aesthetic Appeal
Much as you love your dogs, you won't want to look out of your window onto ramshackle kennels. Our dog kennels and panels are designed to look tidy and neat. While we don't build kennels that look like little cottages, or country houses, we do build good quality, well-made, attractive dog kennels, so that when you look out of your window, the view is a good one.
Looking for Dog Run Panels? Buy Here!
Whether you are looking to build your dogs an ideal kennel and run from scratch, want to add to an existing kennel ready for a new arrival, or want to utilise an odd-shaped corner of your garden with a secure dog run, we can help. Our range of galvanised panels come in different sizes and styles, from bar to mesh, depending on the size of your dog. We also have door panels in different styles, and both dividing and void panels, so that you can create the ideal set-up for your dogs. As well as this extensive range of panels, we also have kennel accessories such as sleeping benches, and feeding bowls, so that you can make the perfect world for your canine buddies. We pride ourselves not only on our design and craftsmanship, but also on our customer service, and are always here to help and advise you to the best kennelling for your dogs. Have a look at our range of panels here, or simply call us today on 01942 316 431
---
Share this post
---
---