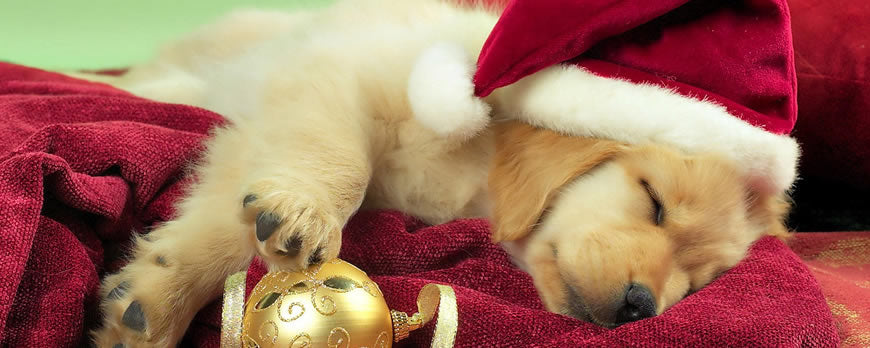 Buying A Dog At Christmas
Posted on
If you are thinking of buying a puppy this Christmas we have 6 things you should look at before doing so. The Dogs Trust coined the phrase 'A dog is for life, not just for Christmas', and it has very much stuck since it was first used in 1978. Taking a dog into your life is a huge decision to make and shouldn't necessarily be done based solely on emotions. Below are a few things that should be given serious consideration should you look to bring a dog into your life during the festive period, or gifting a dog for someone else.
1 - Make sure the person who is going to be responsible for the dog knows what owning a dog entails
Many times you hear of people taking a dog on and then later on realising they are too much hard work and responsibility for them. Always ensure that the person who is going to be looking after the dog knows a) they are going to be receiving a dog and are happy to do so and b) have the time and willingness to welcome a dog in their lives and will give it a happy home. This should be the very first step you take before you proceed any further.
2 - Is Christmas the best time to get a dog?
Christmas, for most of us, is a very hectic time and it can mean you have a house full of visitors or spend a lot of time out of the house visiting others. Do you have the time that is needed during Christmas to welcome a new dog into your home and ensure they are safe and happy, while getting used to the new environment. If you have family visiting often during the festive period, having many strangers coming in and fussing over the dog may not be the best way for the dog to settle in.
3 - Where are you going to get the dog?
The natural thought process for many people when looking to bring a dog in their lives is to look at puppies and see if they can find a reputable breeder etc for the breed they would like. One thing which a lot of people will overlook is re-homing a dog which is currently in a rescue centre. This is not only a great gift for you but it also gives the dog a second chance. Certainly something which is worth considering.
4 - Do your homework
If you do decide that you are going to go down the route of taking on a puppy instead of a rescue dog, ensure you know everything you can possibly know about the breeder. The Dog's Trust warns that "the internet has become a thriving marketplace for advertising illegally imported puppies". This is very much the case. Ensure you have looked into the breed of dog you are looking to take on, spoken to previous dog owners from the same breeder. This is a whole topic on its own, but making sure you have a safe and reputable breeder could save you thousands in the long run.
5 - Go meet the puppy at home
Too many people when buying a puppy will have the puppy brought to them instead of visiting the puppy when it is in its natural environment. You should ensure that you make more than one visit to the home and request to see the pup with its mother also to see how they interact and to ensure that the breeder actually has the mother living with the pup.
6 - Trust your instincts
If you visit a puppy and it appears to be too small or underweight, then this may indicate the seller is not being honest regarding the age of the pup or has not been looking after them correctly. Also, a seller which has access to multiple breeds should also be approached with caution. If you tell them you prefer a certain other breed and they just so happen to have access to that breed as well, this should be a warning sign. Taking on a dog at any time of year is a big decision, however during Christmas when emotions are running high you need to be extra cautious when making such a big decision. Is Christmas the best time to do so?
---
Share this post
---
---