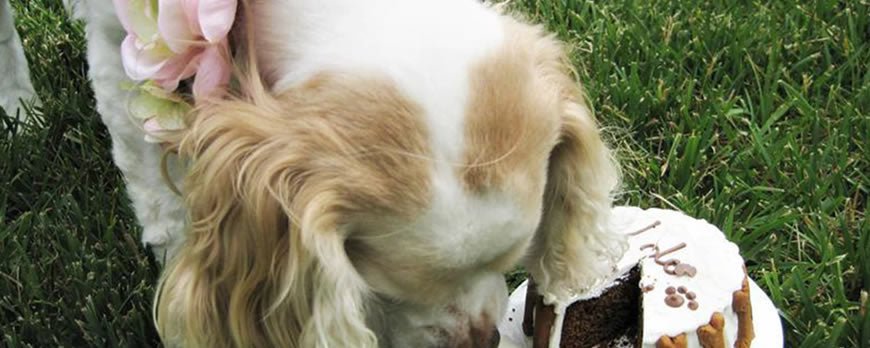 Your Dog At Your Wedding
Posted on
Wedding season is in full flow so we thought we would take a more lighthearted approach to this weeks blog post. Since time began, those getting married would celebrate the day with their nearest and dearest. More recently, it has become much more common for dogs to be involved in the day, and why shouldn't they? They are part of the family after all. We take a look at the considerations when making the decision and also how you can keep you dog involved in your big day.
The first big question
Now just because we love our dogs like we do a child, it doesn't necessarily mean they would be right to be included in the big day. It all comes down to circumstances. Let's remember that a wedding is an extremely nervous day for those getting married, so you will need to consider whether your beloved dog will be comfortable on the day and whether they will be able to behave without eating all of the wedding cake behind your back :-) Considerations should be made, such as how will the dog be involved? Will they be ok around strangers and large crowds? You naturally don't want to put your dog through anything which will make them uncomfortable.
Planning for the big day
So you've decided that you would like your dog at your big day. The first question you will probably have is how do you plan around this and what do you need to consider? We would recommend finding a familiar face who can chaperone your dog for the day. You are naturally going to be very busy and will not be able to be with them at all times, so finding someone who can lend a hand with them will certainly help.
Is the venue pet friendly?
Although a large amount of venues are now very much pet friendly, it is well worth checking in advance that your dog will be allowed to take part in the day. Imagine spending months planning to turn up on the day and your dog being denied entry?
Tell your photographer in advance
If you let your photographer know in advance that you plan on including your dog on the big day they will more than likely think of some fun shots and ways to keep your dog involved. Remember these photos are going to follow you forever so you want to remember these days even after your dog is no longer with you.
Don't let your dog over indulge
One thing is for sure, if your dog is sauntering around your wedding, your guests will want to give your dog treats. You will need to keep an eye on your dog or ask the guests to refrain from doing so. The last thing you want is a dog with an upset stomach or feeling unwell after a heavy day of treats.
My dog at my wedding just wouldn't work
The main thing here is to not let yourself get upset. It is certainly not for everyone. Even some of the most loving pet owners choose to not include their pets at the wedding because they would prefer to relax and enjoy the day without the added worry. Unfortunately weddings are not for all dogs and that won't change any time soon. Treat your pet to a nice day out with a sitter while you enjoy the festivities to ensure you don't feel like they are missing out. Enjoy your big day!
---
Share this post
---
---