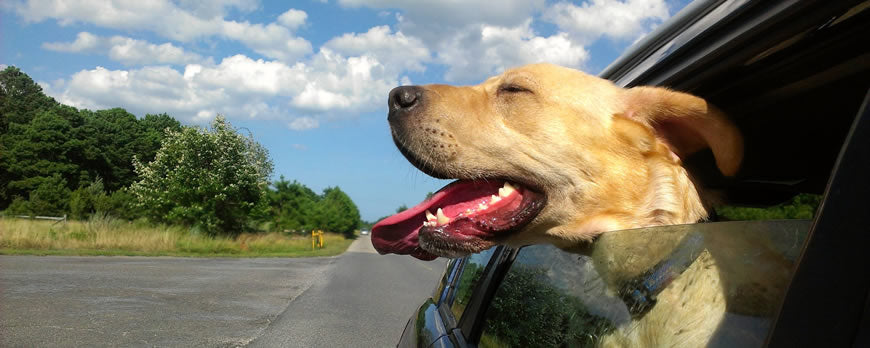 Dog Travelling Tips
Posted on
Adventures are best shared. Energetic and enthusiastic, dogs enhance trips with their joyful spirit. Here are twelve tips to ensure the comfort and safety of your furry friend when travelling. For any type of travel:


1. Exercise and eat hours prior
Several hours before the trip, we recommend engaging your dog in heavy exercise to exhaust them enough to sleep through the early stages of the journey. Similarly, several hours prior to leaving is the best time to feed them.


2. Maintain routine
Holidays are about relaxing from the stress of routine but for dogs, having no routine can cause stress. Keep up their timed routines of eating, exercise, and bathroom breaks.


3. Outside is leash time
Even with the most well-behaved dogs, we recommend keeping them on a leash whenever outside. Your dog has no sense of its new surroundings, and it will ease the worries of fellow pedestrians who are not familiar with your lovely pet.


4. If possible, stop every 3.5 hours
These breaks are necessary for your dog to relieve themselves, eat, drink, or stretch their legs. Road trips:


5. Develop positive familiarity
If drives with your pet generally consist of visits to the vet, they will have negative associations with drives. Develop positive association at least a few weeks prior to travel. Excursions to the park, or picking up a treat at the pet store, will create happy associations, lessening their overall anxiety.


6. Have extensive information
Create a cohesive list of rest stops and pet hospitals, and pack their medical records and health certificate. In the event that they fall ill, medical records will help professionals treat them more effectively. Acquiring a health certificate from your regular vet before the trip will lessen the odds of an unexpected hospital visit.


7. Be cool
Ensure that your cars air conditioning works and keep it on at all times. Use window shades for the back and side windows. Keep your dog hydrated with ice cubes, cooling them and reducing mess.


8. Keep the car empty
If left alone in the car, your dog risks heat stroke, theft, or worse, going missing if they manage to leave the car. Train journeys:


9. Keep the lead
As protocol, your dog must be on a lead at all times.


10. Stay low
Dogs are not allowed on the seats, even if cosily curled up in your lap. Keep them on the ground, close to you so as not to bother fellow passengers.


11. Properly contain big dogs
If they are not staying in a container, they must be properly collared, chained, and muzzled. Plane ride:


12. Purchase a pet passport
Circumventing long quarantine periods, pet passports are a record of all the vaccinations and procedures in your dog's history. This grants your pet the ability to travel to EU and ECC countries, as well as others, including Argentina.


13. Crate train
Big dogs will be perfectly safe in the undercarriage of the plane. Set to the same air pressure and temperature as the passenger cabin, crate train your dog to get them accustomed to being inside the crate for hours at a time.


14. Notify the airline
A few weeks before you travel, contact your airline to let them know you are travelling with a dog. They need to ensure that the plane's undercarriage will have space and that there will be workers that day able to handle its crate.
---
Share this post
---
---