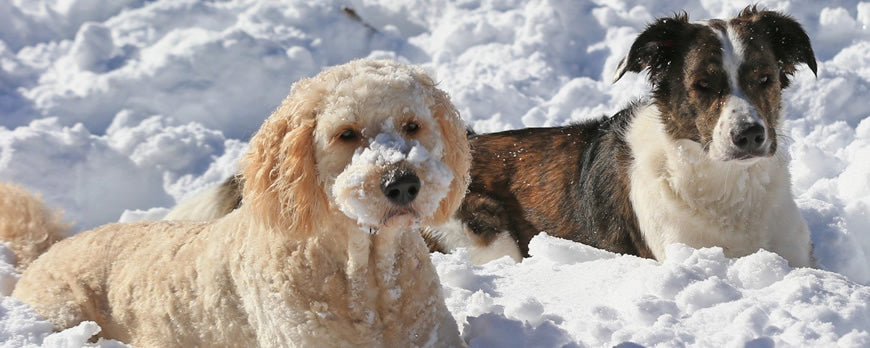 Winter Dog Walking Advice
Posted on
We have had a very good summer here in the UK however it hasn't taken long for the days to draw in and the temperatures to drop as we head into Autumn. As with summer, winter poses it's own risks so we thought it would be a good idea to put together a blog post on how to protect your dog during the colder winter months.
Before and during walks in winter
This is one of the most important areas you need to think about during the colder winter months. The cold will have an equally large impact on your dog as the summer months do. Here are some things to consider:
Try and keep the hair around your dogs paws to a minimum to prevent the buildup of ice or snow when your dog is walking. Just as with us humans, ice or snow on our skin for prolonged periods is not a pleasant experience for dogs.
If your dog has a fine coat, be sure to put a dog coat on the dog to keep them warm.
If you dog is getting a little older and suffers from any sort of joint problems such as arthritis, the cold weather can have an impact and often make them worse. It is important to limit the time they spend in the cold in this instance.
It is highly advisable to ensure your dog stays away from any frozen lakes or ponds. Although it may be good fun they can be extremely dangerous should your dog fall in.
How much you feed your dog should be considered if they are less active during the colder winter months.
Stick to areas which are well lit such as parks and public bridle paths. This will help you to avoid anything which could potentially harm your dog such as glass on the pavement etc.
You and your dog should wear bright clothing so you can easily be seen on evening walks
Carry a torch. This may sound a little far fetched however it will certainly help should you need to tend to your dog in the dark or pick up and dog mess.
A flashing collar on your dog will enable you to let them off the lead during the darker nights but also help you and others see your dog.
After walks during winter
After you have walked your dog on gritted roads and pavements be sure to wash your dogs paws thoroughly after walks to ensure they do not become irritated.
Check for snow between the dogs toes and clean thoroughly.
Dry and warm up your dog. Although they would have been walking and running which would have raised the body temperature, your dog will still feel the cold. Slowing warm up your dog after your walk by drying them off and giving them a comfy dog bed to lie in.
Gauge as to whether your dog was content and happy before and after the walks. You will then get a feel for how long your dog wants to actually be out of the house for. You can then adjust the length of your walks.
Ensure you do not leave your dog anywhere cold after the walk, such as in a car for example. Cars get equally as cold in the winter as they do hot in the summer. It is important for your dog to slowly get back to normal body temperature after a cold walk. An insulated dog cabin could be ideal to help your dog warm up.
These are just a few tips to ensure that your dog stays safe and happy during winter. If you have any questions regarding this or how your dog is affected in the winter contact one of our team who will be happy to help.
---
Share this post
---
---