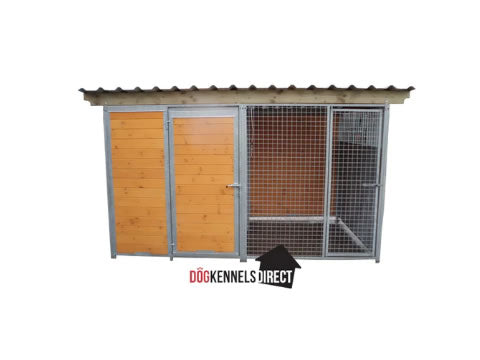 How Big Does a Dog Kennel Need to Be?
Posted on
Average Size of a Kennel
When you are buying a kennel for your dog, you need to make sure that you consider how big the dog kennel needs to be & choose one with enough room to keep your dog safe and happy. If you are choosing a kennel when your dog is a puppy, remember this – puppies grow! So, make sure that you choose a kennel that will suit your puppy when it has reached its fully grown adult dog size. Here at Dog Kennels Direct, we have a fantastic range of kennels in different sizes, so you will be able to find the perfect fit.
What Size Dog Kennel and Run Should You Choose?
A large mastiff and a small Maltese will have very different requirements from their dog kennel, though both need enough space to stand up, lie fully stretched out, and comfortably move around. Our dog kennels are designed to give your dog a good amount of space and are a popular choice for those with larger and more active breeds. It also depends on how you are going to use your kennel. If your dogs are going to spend a lot of time in their kennel, for example, while you are out at work then they will need to have plenty of space. However, if you are going to use your kennel to pop your dogs out of the way while you occasionally have visitors then it does not need to be as big. Also, consider the size of your garden or yard. If you are already limited on space then choosing the biggest kennel will reduce your available space even more.
Average Size of a Kennel
At Dog Kennels Direct we sell a range of different size dog kennels. If you can't see what you require in our available sizes, please speak to us about your unique requirements. Our complete dog kennels, which come with a sleeping area and an integral run start at 2 metres in length and go up to 4 metres in length, with a varying width of 1.5 or 2 metres. All our complete dog kennels are a standard 1.84 metres high, giving your dogs plenty of room to move around. Our runs also start around 2 metres by 2 metres in size and are 1.84 metres high and increase in size.
How to Choose the Right Size Dog Kennel?
Choosing the right dog kennel size comes down to two main factors, the breed and activity level of the dog, and how you will be using your dog kennel. A working dog will need a larger space than a toy dog, and a kennel that is used daily for longer periods will benefit from being larger than one that is used occasionally for shorter periods. Every situation is different, and as long as you evaluate how you will be using your dog kennel you will be able to make the best decisions for your dog.
Best Dog Kennel to Buy
At Dog Kennels Direct we have a good range of dog kennels for all types of dogs. If you are looking for a complete kennel, then our Complete Dog Kennel with Run will be the best for you and your pets. This has a sleeping area to keep your pet warm and cosy and an integral run area where your dog has room to stretch his legs. This is the ideal choice for dogs who spend longer periods of time in their kennels, as it gives them a nice environment in which to live. We also have a range of varying size mesh runs, these come both with or without a roof. These are ideal as a safe space to put your dog in whilst people are in your house. They come in a variety of different mesh and bar widths, depending on the size of your dog, and your requirements. You can choose from Mess Modular Dog Kennels, Modular 5cm Dog Kennels, or Modular 8cm Dog Kennels. If you are unsure which one is the best fit for your dogs, speak to our friendly and experienced team here at Dog Kennels Direct, who will be happy to help you to choose the best dog kennel for you and your dog.
Read related articles:
---
Share this post
---
---