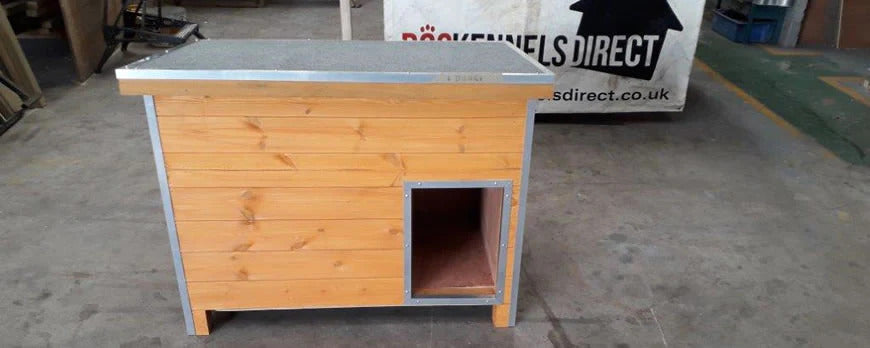 Owning a Dog Cabin: A Comprehensive Guide
Posted on
Dogs enjoy making themselves a den. Anyone who has watched their dogs attempt to tuck themselves up under a blanket or cushions will know this! They like to have a den-like space where they can curl up and feel safe, and where they can go to sleep. Some pets will create dens in the garden, digging holes in the ground or at the base of a tree before curling themselves up to sleep. Canines often circle when they are getting themselves ready to sleep, and enjoy fitting into tight spaces. Even a large pup can curl into a surprisingly small space. We can help create a safe place for your pets, without them ruining your garden or sofa! Our pet home will do just this. They are designed to be used with our range of dog kennels, inside a utility room, or in an outside building, rather than as a standalone outside structure. Our cabins are constructed to the highest standard and are well-designed to minimise drafts and keep your dogs happy and healthy.
Benefits of Dog Cabins for You and Your Pet
Much like us, dogs like to have a space they can call their own, a safe place where they can go to sleep. If you have small children, it is important to teach them that a canines's space is their own and to respect this. A happy dog that feels secure, will make a brilliant pet for your family. Dogs that feel insecure can develop behavioural issues, so ensuring that your dog has a good environment will help to make your dog happy.
Cost of Owning a Dog Cabin
If you choose a good quality and well-made dog cabin then you are making an investment. Providing you look after and maintain your dog cabin it should last you for many years. Our cabins come in different materials, we have a black phenolic-coated anti-chew cabin or a wooden cabin with anti-chew strips. If you choose an untreated wooden cabin, then you will need to treat timber. Regard your cabin as an investment in your dog's happiness and health.
Types of Dog Cabins for Different Dog Breeds
When choosing the best dog cabin for your dog, or dogs, you need to consider the size of your dog. In order for the cabin to provide your dog with the feeling of security, the dog cabin needs to be the right size. If it is too large for your dog, they won't gain that feeling, and too small will make it uncomfortable for your dog. The choice of materials is personal, but all our dog cabins come with anti-chew strips to prevent those sharp teeth from damaging your dog cabin.
Factors to Consider Before Buying a Dog Cabin
Our cabins are designed to be compatible with our other products. Many people choose a dog cabin to go inside their kennel or run, to give their dogs a warm and cosy place to sleep. If you are looking at cabins, then consider where you are going to put them. Dog cabins can also be used in utility rooms or outside sheds. How many dogs do you have? You may need to have more than one dog cabin so as not to cause issues or fights over the cabin. If you are looking at designing a complete kennelling system, then you can design it for your dogs. You can choose the size of the overall kennel, and then choose dog cabins to go inside so that all your dogs will be happy. Our cabins come in different sizes so that you can choose the best size for your dog. The cabin needs to be big enough for your dog to stand comfortably, with space to turn around, but not too large that they don't feel protected.
Maintenance Tips For Dog Cabins To Keep Them In Good Condition
As with everything, good maintenance will help to extend the life of your dog cabin, keeping it in good condition for many years to come. Make sure you clean your dog cabin regularly. This is not only important for the cabin, but also for the health of your dog - you wouldn't want to sleep in a dirty bedroom! Puppies may not be fully house-trained and may have accidents, so it is important to wash away any urine that may be inside. Check your cabin for any signs of damage. Our cabins are extremely well-made by experienced joiners, so they should last for many years to come. If you have chosen an untreated wooden cabin, then you will need to treat the wood with preservatives, and this may need to be repeated on a regular basis. 
Ready to Buy a Home for Your Pets?
A dog cabin is a great investment for your dog. If you are unsure about how to create the best environment for your dogs using different products such as a complete dog kennel with a dog cabin, then our helpful and friendly team are always on hand to answer any questions that you may have. If you have chosen the ideal dog cabin for your dogs, then simply order yours today and get ready to create the perfect home for your dogs. Whatever size or breed of dog you own, we have the ideal solution for all your kennelling needs, simply call today on 01942 914457 
---
Share this post
---
---