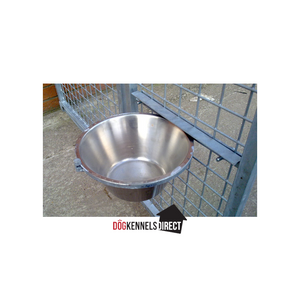 Single Dog Bowl and Holder
£50.00

£50.00
The price above is including tax
Shipping
calculated at checkout.
---
---
Why Choose This Single Dog Bowl and Holder?
Our uniquely designed Single Dog Bowl and Holder makes a welcome addition to any dog's home in the UK. Featuring a hot dipped galvanised steel construction, this holder offers durability and longevity, while the easy-to-remove stainless steel bowls provide the convenience of simple top-ups and straightforward cleaning.
This dog bowl and holder is perfect for any type of dog housing situation, whether it's a personal kennel or a professional run. It can be easily fitted to any of our panels, whether bar or mesh, and the height is completely adjustable, offering a flexible solution for dogs of all sizes.
To ensure a hassle-free installation, we include all nuts, bolts, and washers. This Single Dog Bowl and Holder weighs approximately 1.0 kg, making it sturdy enough to stand up to any canine appetite yet light enough to be easily maneuvered.
Here at Dog Kennels Direct, we are devoted pet lovers just like you, and our aim is to provide products that make your pet's life healthier and happier. We understand the importance of reliable and robust dog care essentials, and this Single Dog Bowl and Holder is no exception. It's been carefully crafted to stand up to daily use, with easy-clean features that help maintain your pet's health and hygiene.
---
You May Also Like...
---