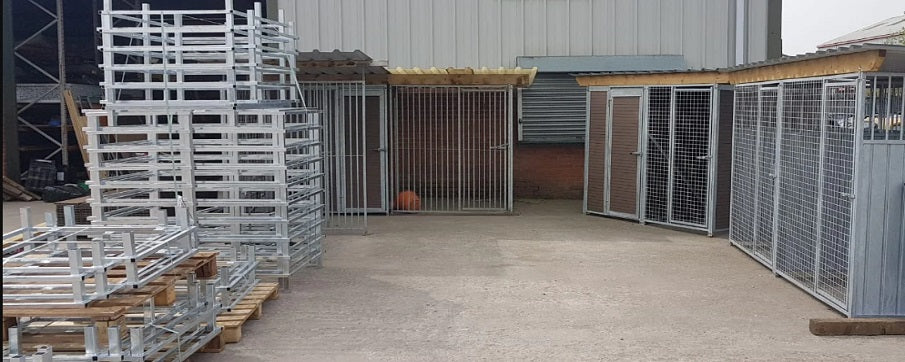 How Do You Introduce a Dog to a Pen
Posted on
Your dog's initial introduction to his pen is incredibly important, as this will set the tone for his relationship with the pen. A dog pen is designed to provide your dog or puppy with a safe space, where he can be safely left for longer periods of time. Whether you are planning to use your dog pen for a short period when you have young children visiting, or longer periods whilst you are out at work, it is important that your dog is happy and content in his pen. Never use a dog pen as a place to punish your dog for a misdemeanour, it is his safe place, where he can snooze, stretch or play. Investing time in training your puppy to stay happily in his pen or dog crate, will give you benefits that will last for many years.
Preparing the Dog Pen
Once you have chosen and installed your dog pen, you need to get it ready. Our dog pens come in different designs and sizes, so you can choose the best set-up for your dogs. Some people choose to add a dog cabin or sleeping area to their dog pen, so you could make this area cosy with blankets or a bed. 
Gathering Necessary Supplies
Take some of your puppy's favourite toys and put them in the pen, as this will instantly create a positive association. Using blankets or a bed, that he has already slept on will give a familiar scent to the pen, and may help him to become accustomed to his new home.
Introduce the Dog Pen Slowly and Positively
As with all puppy and dog training, take your time. If you introduce new areas or concepts slowly with lots of positive praise, your puppy will quickly gain trust in his new environment. If you rush the introduction and the training, you are more likely to create problems for yourself in the future.
Familiarising the Dog with the Pen
Leave the door open, and secure it back, so that it can't bang and startle him. If the area your pen is in is secure, then you could simply pop some toys and treats in the pen, and let him explore the space by himself.
On-Leash Pen Introduction
If your pen is not in a contained space or if you feel your puppy is better on the lead, then you can introduce him to the pen on the lead. Simply walk him around the pen, in and out of it, giving him lots of time to stop and sniff and investigate the pen. As with all training, keep treating your puppy, and offering him plenty of praise, to build good associations with the pen.
Gradual Increase in Time
Once you have introduced your puppy to the pen, you need to start teaching him to stay in the pen for longer periods. Start by simply shutting the door, and then opening it again and praising him. Gradually build the length of time that you leave the door shut. If he gets distressed, simply reduce the time, before building it back up again.
Building Trust and Confidence
As well as building the time spent in the pen, you need to start walking away so that he learns that you will leave and come back. Again, briefly move out of sight before returning, so that he learns to trust that you will return. Some dogs suffer from separation anxiety, but repeatedly leaving them for very short periods, will start to improve this.
Supervised Playtime
Leaving some toys in the pen for your puppy will give him the chance to play in his pen. Make sure you keep an eye on him so that he doesn't injure himself with any toys.
Use the Pen When You Leave
Once you are happy that he is settled in the pen for a reasonable period of time, you can start training your dog to be left alone. Start with short trips. You could just drive around the block so that your puppy gets used to hearing your car leave. You will be able to tell how settled he is when you come back. If he seems very distressed, reduce the time again, before building it back up.
Tips to Help Them Settle
Make your pen a safe and comfortable environment for your puppy. All dogs and dog breeds are different, and they will have different requirements. Many dogs like to have a small space that they can curl up in so that they feel protected and secure. If your puppy seems restless or unsettled in his pen, consider adding a sleeping area, or dog cabin to create a secure space for him. Giving him blankets or a bed will help to make the space feel like his own. If your puppy seems distressed, take a few steps back, and reduce the pressure on him, some dogs will need more training than others, but the benefits of being able to leave your puppy in the pen will be worth it.
Outdoor Pen Considerations
It is not only the inside of the dog pen that is important to consider, but the outside. Where you situate your dog pen is very important. Think about the weather, the access to and from the dog pen, and where it is in relation to your home. You need to choose a protected area, where your puppy won't be too exposed to the cold or the heat. Certain areas of your garden or yard may be very windy, so try to avoid these areas. 
Choose the Best Dog Pen for Your Pet
If you are just getting your first puppy, or are adding a new older pooch to your pack, creating the right home environment for your dogs will make all the difference. We all have different lifestyles, and different breeds need different setups. Making sure that your puppy has a secure and comfortable place where you can safely leave him will help to create a good home environment for him. Our dog pens are compatible with the other items in our range so that you can always expand your kennels as your pack increases. Take a look at our dog pens today, or call our friendly and helpful team here at Dog Kennels Direct for more advice on 01942 316 431. 
Read related article:
---
Share this post
---
---